---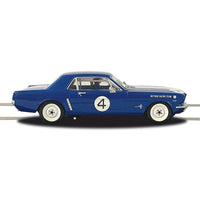 To pre-order this item, add this item to your shopping cart. When you are finished shopping, complete the order as per normal and a pre-payment will be made.
The car will then be sent out to you as soon as it arrives in Australia.
-------------------------------------------------------- 
The Beechey Mustang made its debut at Calder Park on January 24, 1965, setting a new course touring car lap record and becoming the first Mustang ever to win a circuit race anywhere in the world. One week after his big win at Calder, Beechey won again at Catalina heading the Neptune Team.
Neptune Racing was the first Australian Touring Car Team. The touring car scene had been turned on its head with the introduction of Beechey's imported Mustang. At the Sandown race Beechey had Gearbox problems during practice and ended up starting on the 6th row of the grid. From the beginning of the race, Norm decided to get up amongst the leaders as soon as possible. Weaving in and out, passing cars anywhere he soon found himself in 4th position.
Lap by lap, Beechey drew closer to the race leader Bob Jane, also in a Mustang, and on the 8th lap he passed Jane under brakes at the end of the main straight. Beechey then began to pull away and after a monumental effort went on to win the race and the 1965 Australian Touring Car Championship, setting a new lap record.